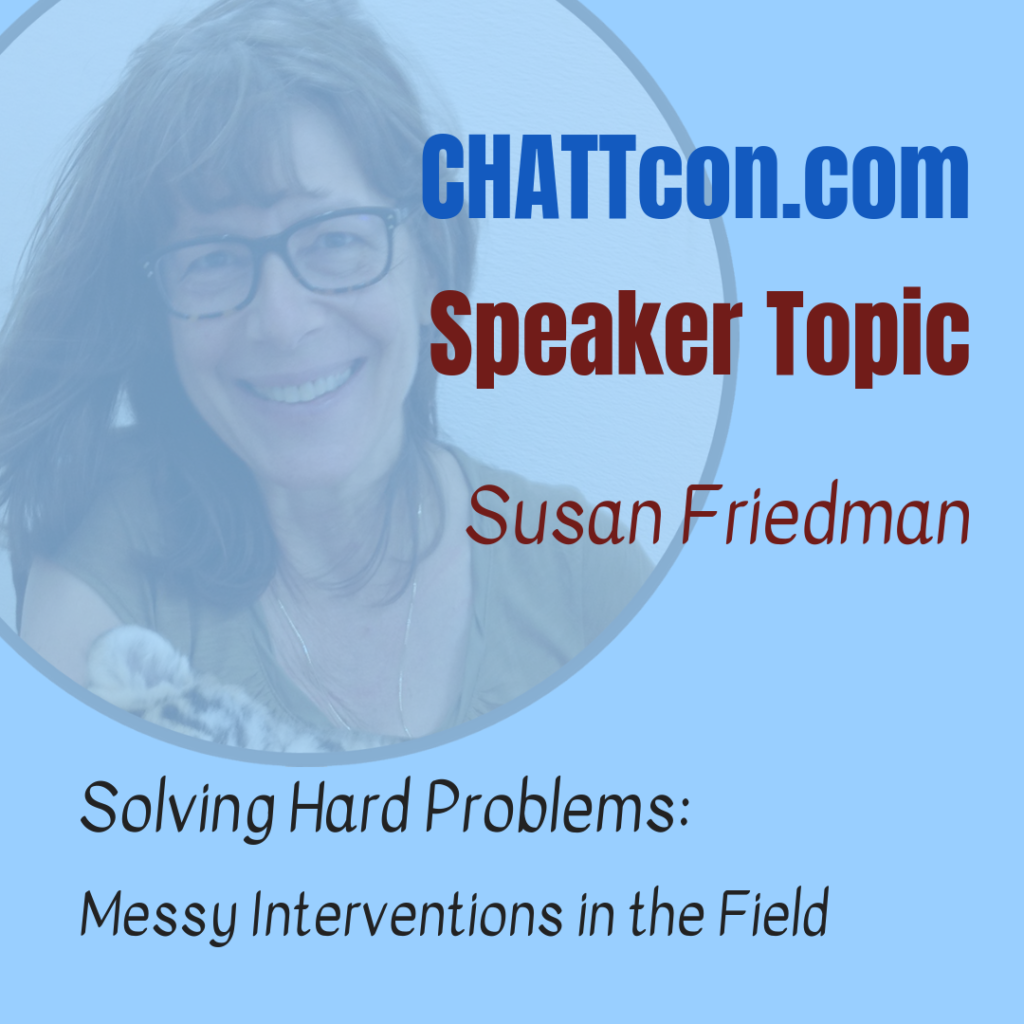 Susan Friedman is a professor of behavior analysis, who has taking the principles and practices from the human realm and has made them accessible to the world of animal training. Her focus on ethical and effective training methods has made her a sought after consultant for zoos and aquariums around the world.
Susan is best known for translating learning principles and procedures across species. The concept of "Unlabel Me!" (labels don't describe behavior or conditions — the two most important variables we need to know for effective, humane behavior change programming); the procedural hierarchy that fosters consideration of what procedures to use for teaching from a least intrusive perspective.

Susan's Advice to Trainers, Teachers and Parents
"There is so much cultural fog about behavior and learning, especially that behavior problems reside inside the individual. At this conference you will learn more about setting observable behavioral goals and how to change behavior by changing conditions. This is where our greatest power to influence can be found!"
From Susan's Talk at CHATTcon 2018
"So I think if I gave you one most important thing it would be to connect to the answer, what is behavior for? And I think that as behavior analysts, and as animal trainers, we're so focused on the behavior we need the animal to learn, or the individual to enter their repertoire for success, that we sometimes forget that we're all part of this bigger evolutionary picture. And that behavior is part of that as well. So behavior is for, as many of you said in different ways, operating on the environment."
"It was no mistake that Skinner picked the word "operant" as we are operators. I think there's some irony to the bad rap, the clockwork orange, rap. That we are in some way, puppeteers wanting to control, when the very word "operant" is a clue to the fact that the organism itself is the operator, which is an empowered description of what we do with our behavior."
Watch Susan's full lecture from CHATTcon 2018
Susan Talks to RyanO
Listen to this informal chat with Susan and Ryan to hear about how Susan got to where she's at and what she'll be talking about at CHATTcon 2019.
Susan CHATTcon 2019 Topic Summary
Solving Hard Problems: Messy Interventions in the Field

ABA principles, procedures and ethical standards are important for improving the quality of life for zoo animals. In this presentation, three case studies are described in which the fundamental tools of ABA (e.g., functional assessment and data based decision making), were successfully implemented with the hard problems: a self-injuring elephant, a fearful rhino, and a too-rough orangutan surrogate mother. However, the path to success can be messy!

Susan Bio
Susan G. Friedman, Ph.D. is a professor emeritus in the Department of Psychology at Utah State University. She has helped pioneer the cross-species application of behavior analysis to animals, using the same humane philosophy and scientifically sound teaching technology that has been so effective with human learners. Susan has co-authored chapters on behavior change in four veterinary texts, and her popular articles have been translated into 14 languages. She gives seminars on animal learning at conferences and consults with zoos around the world. Susan is a member of Karen Pryor's Clicker Expo faculty and teaches yearly hands-on animal training workshops with Steve Martin at Natural Encounters. Susan was appointed to the F&WS Condor Recovery Team from 2002 – 2010, after which time the team was retired due to the success of the birds in the wild. She is the Chairperson of the Scientific Advisory Committee of American Humane Association (AHA) Film and TV Unit, and a member in good standing of ABAI, ABMA, IAABC and IAATE. Last year she was included on the Vet Tech College's list of "15 Animal Professors to Know." Susan's acclaimed on-line course, Living and Learning with Animals for behavior professionals, has provided even wider dissemination of effective, humane behavior change practices to students in over 35 countries (www.behaviorworks.org). And she shares fun videos with a science twist at facebook.com/behaviorworks.

Join Us In-Person or Via Livestream for CHATTcon 2019