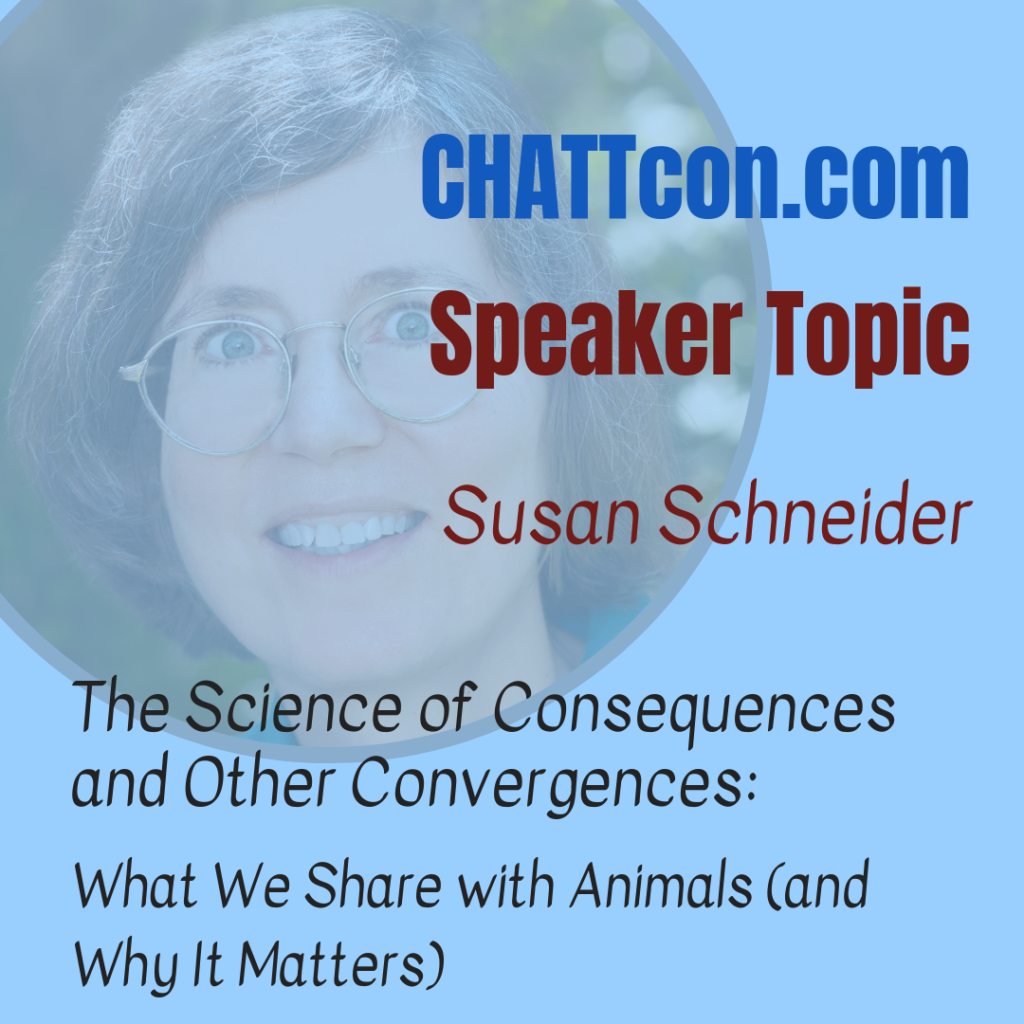 So we asked Susan Schneider how she got to where she is. Susan is the Keynote speaker at The Convergence of Human & Animal Training and Technology Conference thus summer in Seattle. Here's her story told in her very humble way. Such an amazing woman and truly world class scientist!
"I started out in engineering, environmental engineering, where I had some biology. That was gonna be important later on, although I didn't realize it at the time. And then going on to mechanical engineering, got a Master's degree in that. Had some great summer jobs, including working on energy efficiency. Wanted to do renewable energy, and I ended up coming full circle, because now I do the behavioral side of climate change. But in between, after a few years in engineering and then a stint in the Peace Corp, I did come back and get a PhD in behavior analysis. I've been fortunate to know B.F. Skinner and correspond with him and was so impressed with him. The sage of positive reinforcement. And again, just how advanced the science was, and how many connections there were, like you were saying, Ryan, with biology. The neurophysiology, the genetics, the epigenetics, it really is a system, the nature nurture system with all the factors interacting, and the role of learning from consequences. The specialty area of behavior analysis is a really important driver of much of the flexibility in the system. So I had an academic career, but I kept on thinking what a great thing it would be if someone would write a book making all these connections, and covering all these convergences. Right, across animals and humans and the connections with the flexibility in the nature nurture system and all the applications everywhere. So it took me 10 years, but then of course my book came out, The Science of Consequences in 2012. And I did a book tour, and since then a lifelong environmental activist, I've actually focused professionally on using these behavior principles to fight climate change. So that's kind of it in a nutshell."

Susan's Advice to Trainers, Teachers and Parents
"Just keep on getting the word about good behavior, solid behavioral science. The importance of these reinforcement learning techniques, again, for people as well as for animals and in so many applications. Again, there's just so many applications. It's mind boggling, and it's so powerful. And it's on the one hand very encouraging to see how many related disciplines that we are working with, where they have picked up on these principles. And of course it's a two-way street. We benefit from knowing about these related areas, too, so there's still a lot to celebrate. But then there's the areas where we have not had as much of an impact, but we could. Where it's kind of frustrating. And so we just need to keep on trying to get the science out there. It's a wonderful science, as we know, and training is just one of many applications."

Susan Talks to RyanO
Listen to this informal chat with Susan and Ryan to hear about how Susan got to where she's at and what she'll be talking about at CHATTcon 2019. Susan is a key scientist representing the field of behavior analysis in the fight against climate change. She's got some fascinating and important things to say about this…
Susan CHATTcon 2019 Topic Summary
The Science of Consequences and Other Convergences: What We Share with Animals (and Why It Matters)
Early behavioral scientists like B. F. Skinner were astonished to discover how many common behavior principles existed across species – similarities that apply for complex as well as basic principles, and in the mathematical models that describe behavior. Our neurophysiology, genetics, and epigenetics correspond too. Animal and human trainers are well aware of many of the behavioral commonalities, and have helped expand our knowledge of them. This talk will survey the current status of a variety of these shared features, such as unusual consequences, enrichment, choice, learning through observing, communication, and biological bases. Exploring the full range of what we share offers useful insights as well as renewed appreciation for our extraordinary potential.
Susan Bio
Susan M. Schneider, PhD, is a learning researcher and biopsychologist who has clicker trained her pet rats and budgies. She obtained her graduate education from Brown University and the University of Kansas (behavior analysis). Susan's 25 years of research and teaching produced numerous scientific publications, including pioneering work on generalization and choice. Her award-winning book for the public, The Science of Consequences: How They Affect Genes, Change the Brain, and Impact Our World, describes fundamental learning principles, their role in the larger realm of nature-nurture, and their many applications–including the benefits of positive reinforcement-based animal training. She keynoted ClickerExpo, WOOF!, and the Art and Science of Animal Training conferences as part of over 100 book tour events across the US and Europe. The book received advance praise from experts in genetics, neuroscience, and economics, as well as in psychology and animal training. Its worldwide recognition includes coverage in top scientific journal Nature. Currently a Visiting Scholar at the University of the Pacific in California, she is also Senior Scientist for the behavioral sustainability nonprofit Root Solutions, and for several years has focused her efforts on fighting climate change.
Read Susan's Book
Join Us In-Person or Via Livestream for CHATTcon 2019