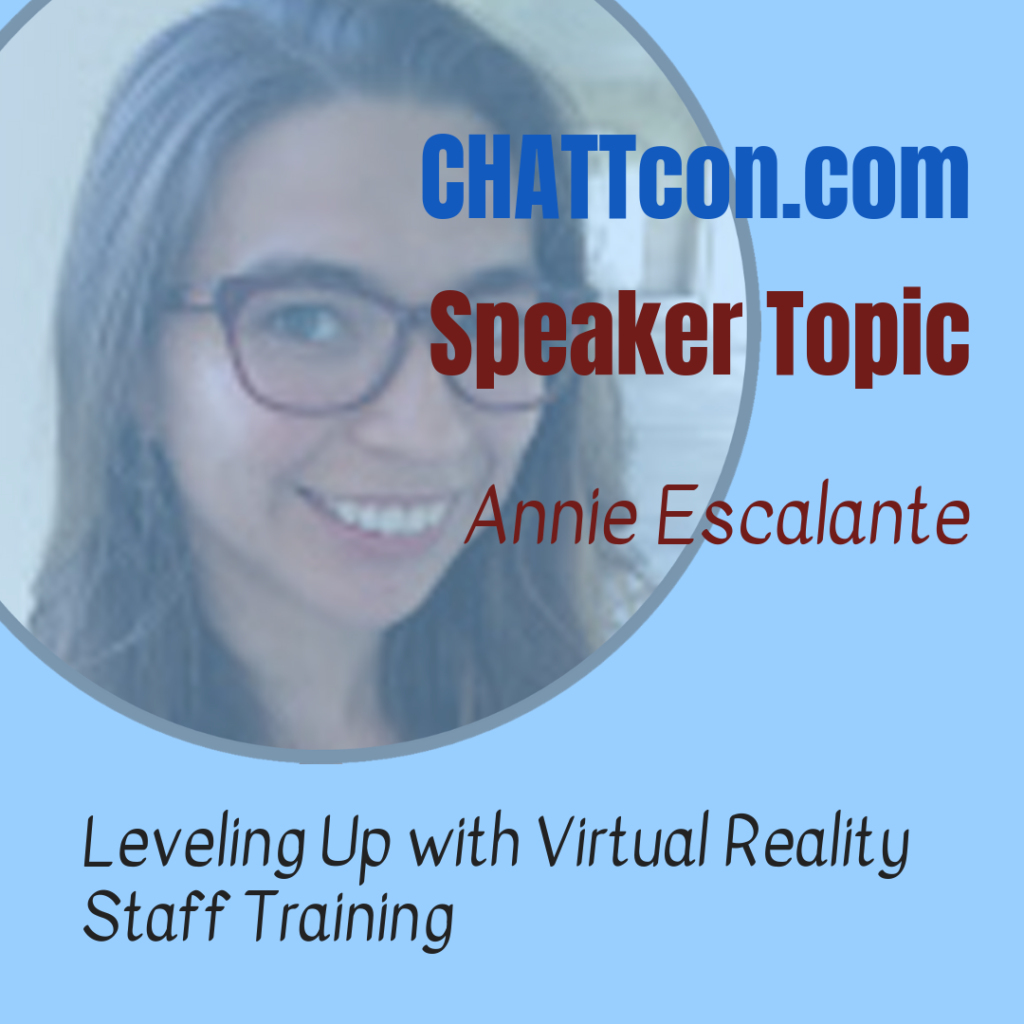 Do you know the difference between virtual reality and augmented reality? Do you know what is the coolest most sought after tech in the VR/AR world?
Annie Escalante is going to tell us all about this fascinating area of tech and behavior science for teaching skills.
Annie's Advice to Attendees
"Virtual reality, this new headset, the Oculus Quest, is going to be a game changer. So if you get a chance to try it I highly recommend it. What it's gonna do for virtual reality is going to be amazing, so I'm pretty excited and I hope all of you are as well."
Annie will be bringing some of the latest VR headsets to CHATTcon 2019, so you can try it out!

Annie Talks to RyanO
Ryan O'Donnell talks to Annie to find out how she went from biology to behavior to the exciting world of a high tech start up and what she'll talk about at CHATTcon 2019.
Annie Topic Summary
Leveling Up With Virtual Reality Staff Training

There is an increasing global demand for virtual staff training. For example the Behavior Analyst Certification Board reports there are 87,000 registered individuals globally with a BACB certification. And the BACB predicts 300,000 certificants will be globally certified by the year 2023. Although this sounds like a vast number of individuals, the number of certified individuals working in the field of Applied Behavior Analysis isn't able to keep up with the current demand for behavior services. This increase of newly minted certificants have created a space for the field to consider different and innovative approaches to teaching basic principles of behavior, in a safe and effective manner, that will replicate settings where an individual will need to use these procedures in practice. This education and training gap led the BehaviorMe team to create a virtual reality series based on a behavior analytic curriculum to teach budding new analysts and analysts-to-be concepts foundational ideas of a Functional Analysis, data collection procedures and more. This type of virtual reality-based training can be useful in any field and this talk will cover some potential applications for animal trainers as well.

Annie Bio
Annie is a Board Certified Behavior Analyst, and a co-founder of BehaviorMe, a virtual reality company producing simulations to teach safety skills. She received her Master of Science in Counseling & Behavior Analysis from Nova Southeastern University and a Bachelor of Arts in Psychology from Florida International University. She has experience working with children and adults with autism and developmental disabilities in a variety of environments including: clinics, schools, and group home settings. Her passion lies in the intersection of technology and innovative approaches to clinical applications. She currently resides in Gainesville, FL with her mischievous rescue, Kylo.

Join Us In-Person or Via Livestream for CHATTcon 2019