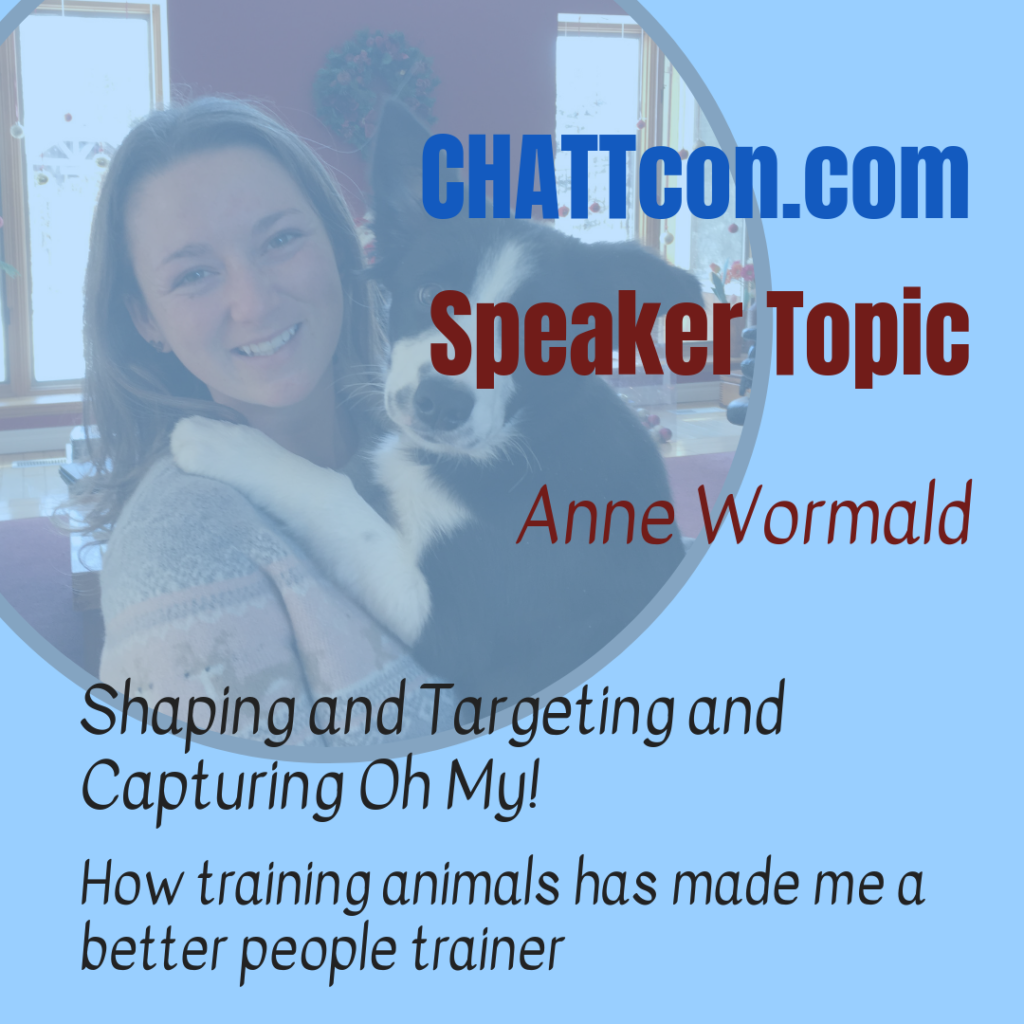 Anne Wormald M.ADS, BCBA will be speaking at The Convergence of Human and Animal Training and Technology Conference in July 2019. She has a unique perspective, being one of the first generation brought up with clicker training and TAGteach. Anne is the daughter of TAGteach cofounder, Joan Orr, and honorary granddaughter of Karen Pryor (queen of clicker training).
Read more about Anne and watch an interview with CHATTcon cohost, Ryan O'Donnell to hear about what it was like for Anne growing up with these influences and how her experiences have shaped her career and have inspired her to do epic sh*t.
Anne's Advice to Attendees
Do epic sh*t! Say yes to opportunities.
Anne Talks to RyanO
Ryan O'Donnell digs deep and gets the sordid truth from Anne about growing up in a punishment-free household and how she survived the influence of Theresa McKeon, Karen Pryor, Joan Orr and other such radicals. You'll find out where Anne's path took her, what she's doing now, what she thinks behavior analysts need to learn from animal trainers and what she's going to talk about at CHATTcon 2019. Listen to get the juicy details and learn one more reason that you simply must attend CHATTcon 2019.
Anne Topic Summary
Shaping and Targeting and Capturing Oh My! How training animals has made me a better people trainer
A comparison of typical methods used to teach people vs. animals to perform gross and fine motor skills and follow instructions. This talk will focus on how to get and shape behavior without touching and how animal training methods work just as well for people.
Anne Bio
Anne holds a Masters degree in Applied Disability Studies from Brock University and is a Board Certified Behavior Analyst. She is a member of the TAGteach Faculty and manages the certification assessment program for TAGteach International. Anne is a pioneer in the integration of TAGteach and precision teaching and was an invited speaker at the International Precision Teaching Conference in 2017 on this topic.
Anne has extensive experience training and teaching people. She is an NCCP Certified Level 2 gymnastics coach, a Level 1 coach for the Canadian Association of Disabled Snowsports and works as a behavior analyst serving both parents and children living with autism. She began her teaching career at age 11, as an assistant helping to teach adults to train their puppies.
She also has extensive experience with clicker training several species of animals. She was a pioneer in the field of rabbit training. As a child she was a feature trainer in the award winning Clicker Puppy Training DVD. She was the recipient of the Innovation Award and Humane Trainer Award from the International Positive Dog Trainers Association in 2005.
Join Us In-Person or Via Livestream for CHATTcon 2019