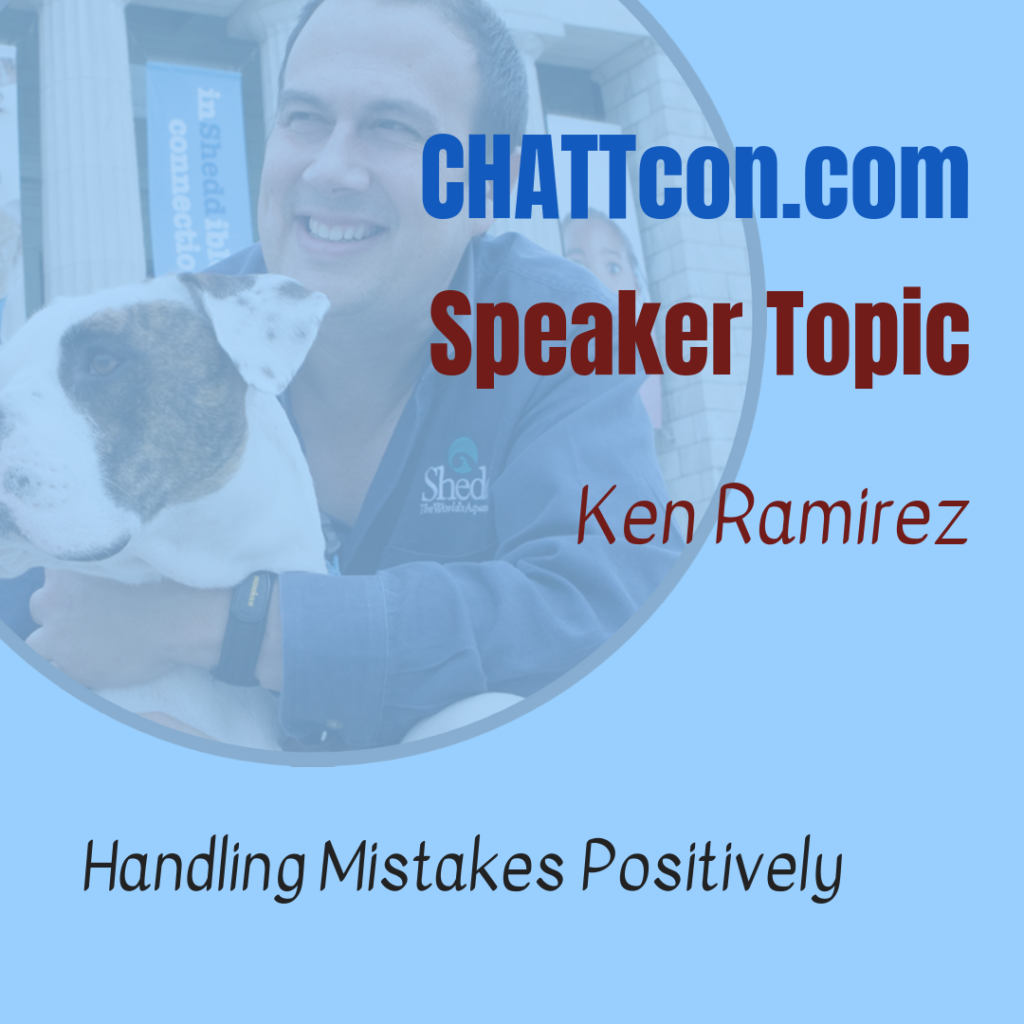 Once upon a time there was boy named Ken, who loved animals and he grew up to be the greatest trainer in the world. Ken Ramirez, will be speaking at The Convergence of Human and Animal Training and Technology Conference in July 2019. Ken is the Executive Vice President and Chief Training Officer for Karen Pryor Clickertraining and a powerful voice in the world of coercion-free animal training. One of the big concerns that many trainers (and teachers) have is around what to do if a learner makes a mistake. Ken's going to talk to us about the pitfalls of saying "no" and the ever popular time out and explain what he prefers to do instead.
Ken's Advice to Trainers, Teachers and Parents
Try to think about how you can make the lives of your animals better and how you can make the lives of the people in your life better. Part of that is by being a positive role model for the people around you, providing positive experiences, and thinking about how to use positive reinforcement. The way to make positive reinforcement a part of your every day life is to actually think about it every day and to actually make a conscious effort. Then it can become a natural part of what you do every day.
Ken Talks to RyanO
Listen to this informal chat with Ken and Ryan to hear about how Ken got to where he's at, what's new and what he'll be talking about at CHATTcon 2019. Hint: He tells Ryan what's best to do if a learner makes a mistake.
Ken Topic Summary
Handling Mistakes Positively
Positive reinforcement trainers will go out of their way to avoid punishment. However, is a well-timed "no" still considered a punisher? What options are available to the well-intentioned positive reinforcement trainer? In this Session, Ken Ramirez will present the various techniques used to deal with incorrect responses and share the science and practical applications for each tool. He will touch briefly on "saying no" and the use of time outs and describe the risk of those options. Ken will explore the varied applications of a tool called the LRS and focus on redirection as his preferred approach to get a learner (animal or human) back on the desired path.
Ken Bio
Ken Ramirez is the Executive Vice-President and Chief Training Officer of Karen Pryor Clicker Training (KPCT) where he oversees the vision, development, and implementation of training education programs for the organization. He also runs the KPCT National Training Center where he teaches courses and seminars year-round. Previously, Ken served as EVP of animal care and animal training at Chicago's Shedd Aquarium, where he developed and supervised animal care and animal health programs, staff training and development as well as public presentation programs for more than 32,000 animals. He worked at Shedd Aquarium for over 25 years. A 40+ year veteran of animal care and training, Ramirez is a biologist and animal behaviorist who has overseen or consulted on training projects for many zoological organizations worldwide. He began his training career working with guide dogs for the visually impaired and has maintained a close affiliation to pet training throughout his career. He hosted two successful seasons of the television series Talk to the Animals that compared pet training to the important work done with training and caring for animals in zoological facilities. He has also worked closely with several search and rescue dog organizations, service dog groups, as well as with bomb and narcotic dogs. Ramirez has been active in several professional organizations, including the International Marine Animal Trainer's Association (IMATA), of which he is a past president. Ken has been actively involved in the creation of a certification process for animal trainers in zoological settings.
Ramirez has written numerous scientific publications and authored countless popular articles. He authored the book ANIMAL TRAINING: Successful Animal Management through Positive Reinforcement (1999) and Better Together: The Collected Wisdom of Modern Dog Trainers (2017). For 20 years he taught a graduate course on animal training at Western Illinois University.
Join Us In-Person or Via Livestream for CHATTcon 2019